Zyfe & Thy Life
Virtual Worlds
Contribute
The Internet's Social Trends
No one expected that the predominant Internet usage would become social.
Today, over 80% of the world's internet population - or 1.2 billion - access online social communities every month, and 1/4 of them - or 300 million - participate in online social activities every day.
The migration to virtual, online social media, however, is still in its infancy. Demand for connectivity will continue to explode - such as with mobile and virtual world technologies - forcing manufactures and infrastructures to keep up.
By 2015, it is expected that network-connected devices will outnumber people 2:1, that the digital gaming industry will reach $75 billion in revenue in North America alone, and that global Internet traffic will quadruple to reach one trillion gigabytes. This is the equivalent of watching one million minutes of Internet video every second, or for the average social user to connect to various online communities for at least 20 hours per week.
HELP US CREATE A SAFE HAVEN FOR OUR YOUTH
The Reality of Virtual Reality
Although Facebook is well known to be the most popular social community, few realize that 4 social virtual worlds are also in the top 10, totalling over 700 million members. Unlike Facebook, they have shown exceptional growth both in revenue and users.
The emerging social virtual worlds, sometimes called Massively Multiplayer Online Social Games (MMOSGs), have the ability to connect millions of users together online in a virtual social environment. They are unsaturated and do not have to compete with one another. New users will come automatically.
And it's only natural that they do. During a recession there are less funds to travel or to pay for traditional entertainment or shopping sprees. So the teenagers, tweens, and young women find themselves inside online social communities, partaking in activities that are considerably less expensive but still provide the same rewards.
... page 2
The Virtual Reality Users
Today, there are 1.8 billion MMOG (Massively Multiplayer Online Game) user accounts. During 2011 that number increased by over 30%. Most of the increase was from new social world accounts.
Currently, 44% of the multiplayers, over 750 million, are 10-15 years old. But memberships for the next older age group, the 14-25 year olds, are skyrocketing. The simple reason for this is that many of new MMOG users are young women (who have not previously been playing) and that the 10-15 years old are getting older. Unfortunately, good social MMOG worlds are hard to find for the young adults.
Because of multiple accounts, the total MMO user base now exceeds the world's internet population. But as with Twitter, LinkedIn, and Facebook, MMO users partake in multiple virtual worlds, seeking new experiences that match their needs.
... page 3
Virtual Worlds (MMOSGs)
Fashion, Role-Play, Simulation, Music, Toys, Games, Chat, Content-Creation, TV & Film, Sports, and Education.
Few, except Content-Creations, are cross-overs, and only Second Life includes most genres. But because of its questionable moral nature, Second Life is restricted to adults only.
The diagram on the right depicts the virtual world distribution. Worlds in white are closed to the public as they are either under construction or in private beta.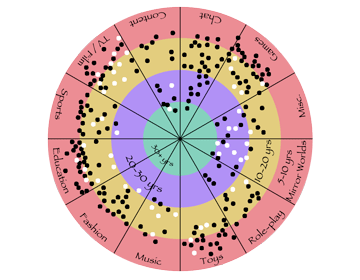 The Issues.........Identifying Opportunities
1. There is more Crime Online than Offline



About 1.8 billion accounts cover the 900 virtual worlds (MMOGs) in existence today. For the 300 million children, teenagers, and young adults that reside there for over 20 hours/week, there is little to no protection, monitoring, or mentoring. Little do the parents know how much violence, mature material, and crime their children are exposed to. For instance,


· The largest group of Internet porn consumers is children ages 12-17.
· 20% of teenaged Internet users have been the target of unwanted sexual solicitations.
· 22% of teenage girls say they posted nude or semi-nude photos or videos of themselves in social media.
· Girls are more likely than boys to be the target of cyber bullying.
· 65% of 8-14 year olds have been involved in a cyber-bullying incident.
· 95% of parents claim they know what their children look at online.
· 90% of parents of children exposed to cyber crime become themselves victims of cyber crime.
... page 2
The Issues.........Identifying Opportunities
(cont'd)
2. Most MMOGs compete in a Saturated Market



Role-Playing, Science-Fiction, and First-Person Shooter games comprise over 80% of all MMOG titles and compete the most in a $12 billion MMO market. Because their market is saturated, to be successful, a new title will have to steal users away from existing titles. In addition, most of these games are directed towards the same younger age demographics.



3. Most MMO Developers do not offer a rich Gameplay Experience on Multiple Platforms



In the US, 84% of MMOGs are browser based, and less than 3% incorporate third-party brand experiences, collaborations, training, and simulations into their games, allowing for alternate revenue models and supplying the needs of 3rd parties.

HELP US CREATE A SAFE HAVEN FOR OUR YOUTH
The Niches.........Seizing Opportunities
1. Our Children - Our Future - Need Protection, Guidance, and Mentoring



Because there is definitely a need for safety and security, our integrated feedback system will put the controls with the parents and the players, ensuring that all can enjoy our games. In addition, we will mentor and monitor our players, and encourage constructive character, social, and business development.


The qualities of development that we will focus on include collaboration, commitment, cooperation, creativity, curiosity, diligence, entrepreneurialism, forgiveness, future-mindedness, generosity, gratitude, honesty, humility, joy, love, purpose, reliability, and trust.


We believe that our teens, tweens, and young adults have suffered for far too long the crushing blow of moral deficiencies found in modern media.

... page 2
The Niches.........Seizing Opportunities
(cont'd)
2. We Compete in an Unsaturated Market



Social MMO games make up less than 5% of all MMO titles but earn $5 billion annually from its 500 million plus members. Our virtual worlds are content-creations and Life-Simulations - an even more unsaturated market with higher revenue potential. In addition, since we also focus on the 17+ age groups, we can also offer the tweens a virtual world with richer content to graduate to.


3. Multiple Revenue Streams and Richer Gameplay Experiences boast higher results



In Asia, especially Japan, MMOSGs must be mobile in order to succeed. Thats why we are planning to develop multiple language modules on multiple platforms, incorporating 3rd party inclusions such as educational institutions, research organizations, marketing and advertising agencies, and product developers/distributors, to name a few.


MMOSG Revenue Sources
Revenue sources for virtual worlds usually incorporate only one of the first two:
Subscriptions



The perception is that the money is in the big budget, high-end subscription games like World of Warcraft, Star Wars, and Club Penguin. Coincidentally, only about 3% of the virtual worlds are subscription based. Most prefer the free-to-play micro-transaction alternative.



Sale of Virtual Goods



Most free-to-play MMOGs derive their revenue from the sale of virtual goods. On average, users spend $5-6 on virtual goods every month. For worlds with richer content-creations, the mean is $15 and the average can be as high as $50 per user.
... page 2
Additional MMOSG Revenue Sources
Marketing & Advertising



Integrating virtual interactions with real-life products - creating relationships that transcend into the real world - and measuring accurate user impressions, we hope to take a fair chunk of the $170 billion dollar North American Ad industry. Even without advergaming or accurate impression data, most worlds produce annual ad revenues of about $4-5 per user.



Other Revenue Streams



Multiple revenue streams and richer game-play experiences result in higher revenues for virtual worlds, sometimes over a 1,000%. Unfortunately, multiple revenues streams are seldom used. Less than 1% of all social virtual worlds incorporate third-party brand experiences, collaborations, training, and simulations into their game.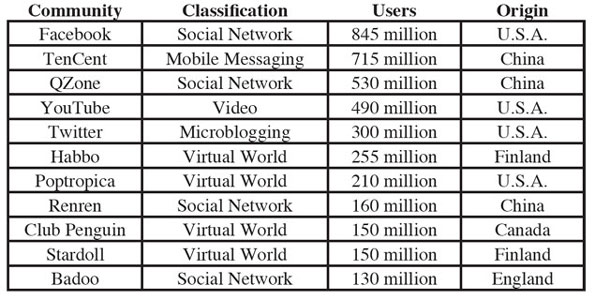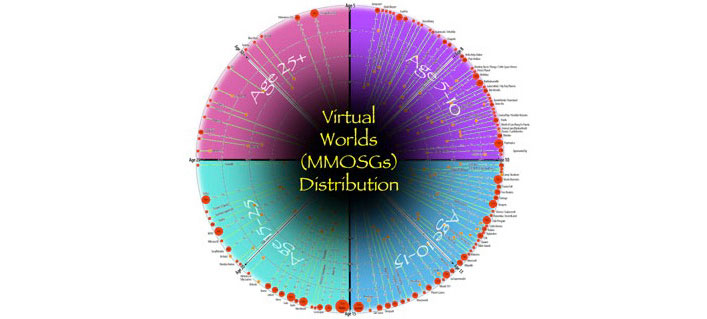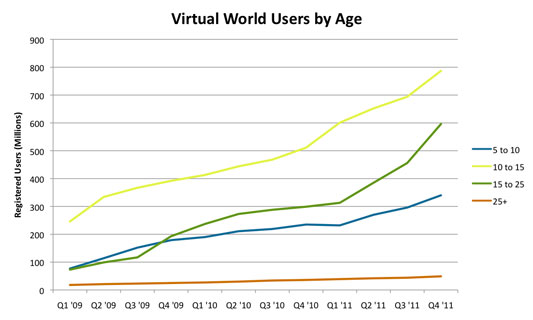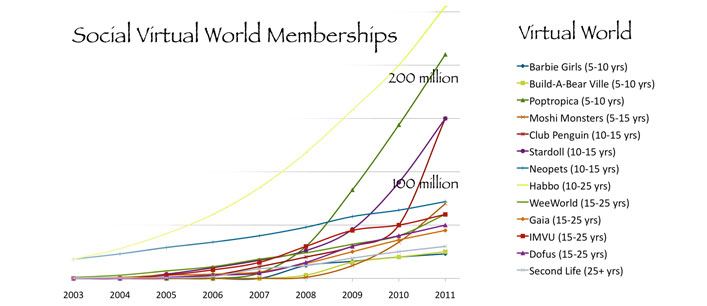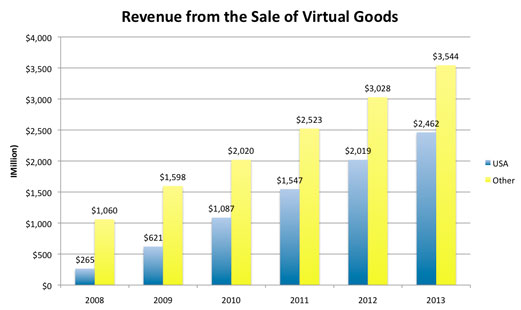 MMOG Revenue Statistics
· Over $2 billion per year is spent on virtual goods inside social worlds.
· 3-D productions bring British Columbia $1 billion in yearly revenue.
· Media and entertainment exceeds revenue of $1.9 trillion.
· Less than 5% of all virtual worlds take opportunity of alternate revenue streams.
· Only 1% of all social virtual worlds take opportunity of alternate revenue streams.
· Alternate revenue streams can increase revenue by over 1000%.
· Transactions taking place in Second Life has, for many years, exceeded U.S. $1.5 million daily.
· Virtual Habbo items have a total market value of over $550,000,000.
· Gaia (USA), Ameba (Japan), and Habbo (Finland) sell $1-2 million/month of virtual goods.
· Players in Second life spend on average $50 per month on virtual goods.
· Club Penguin, making $1 million per week, was sold to Disney for $700 million.
· World of Warcraft grossed in its release month over $1,500,000.
· Second Life of Linden Labs' annual revenue has, at times, exceeded US$2 billion.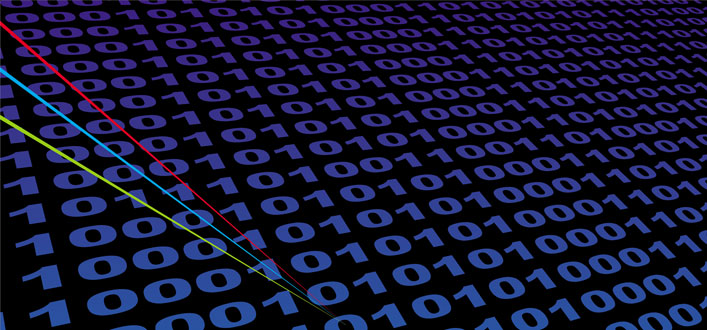 Help Us Create Thy Life & Zyfe


Support us with your donations, investments, connections, or expertise.

If you'd like to share your expertise and connections, please tell us.
If you'd like to aid our development, please invest or donate.
To learn more about investing, contact us.
PLEASE HELP US CREATE A SAFE HAVEN FOR OUR YOUTH.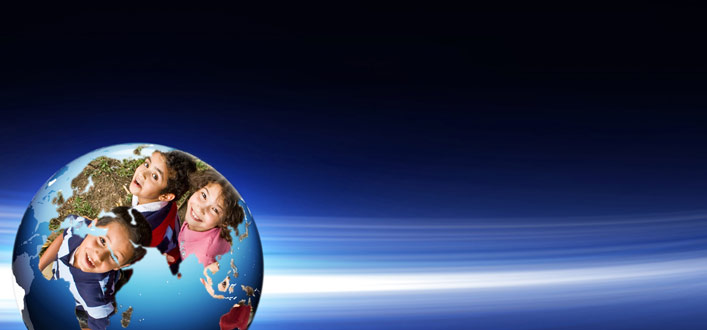 Donation Form

Thank you kindly for your donation. Every contribution helps! To complete the process, please complete all fields, and read our offer.
We believe in making a difference, shaping the future,
and developing healthy minds.